Essential oils are extracted from roots, stems, leaves, petals, buds and flowers of medicinal plants. The benefits of essential oils are immense.
The most common methods involved in extracting essential oils include steam distillation and expression. Approximately 2,24,000 rose petals are required to prepare 5ml of rose essential oil. Being heavily concentrated, these essential oils are highly potent.
Benefits of Essential Oils
Some of the benefits of essential oils include:
Improves digestion: Essential oils such as peppermint essential oil aid in relieving digestive disorders. These essential oils relieve flatulence and constipation and improve digestive function.
Heals Pain: Essential oils relieve pains including headache, migraine, muscular pain, hip pain and joint pain. Ginger essential oil and lavender essential oil are some of the most effective essential oils to relieve pain.
Essential oils help to relieve menstrual pain as well.
Boosts Immune Function: Studies have proved the efficacy of essential oils in boosting immunity. A study points out that various researches have proved that essential oils, in particular, ginger essential oil and eucalyptus essential oil possess immune-boosting properties.
Balances Hormones: Various studies have proved that essential oils possess hormone balancing properties. According to a study, clary sage essential oil and Frankincense essential oil regulate thyroid hormones. Lavender essential oil controls cortisol levels.
Cures PMS: A study has proved that essential oils help to relieve pain, excessive bleeding and cramps during menstrual cycle. Clary sage essential oil relieves stress associated with PMS.
Supports Brain Health: Rosemary essential oil boosts immune power; lavender essential oil promotes clarity. A research conducted on people with Alzheimer's has proved that lemon balm essential oil, lavender essential oil and rosemary essential oil promote memory power.
Supports Skin Health: Essential oils promote skin health by treating dryness of skin and skin conditions including acne. Cypress essential oil tightens skin. Essential oils are also great for healing wounds.
Other uses of essential oils include:
Energizes the body and mind 
Supports hair growth
It is an effective yoga pose for insomnia
Helps with detoxification
Practicing the pose helps to relieve stress.
Cures anxiety
Promotes calm; rejuvenates the mind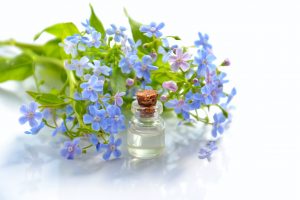 Visit this page to purchase some of the best essential oils.
How To Use Essential Oils
Since essential oils are highly potent, you need to use them only after diluting. Essential oils can generally be used in a diffuser for its aromatic effect, can be applied topically and certain essential oils can be consumed. 
As mentioned above, only certain essential oils can be consumed. It is highly recommended to seek professional guidance before consuming essential oils and strictly adhere to dosage recommendations. For external application you can dilute essential oils with carrier oils including coconut oil and olive oil.
Infants, toddlers and pregnant women should not use essential oils without expert guidance.