Gate Pose is called Parighasana in Sanskrit. 'Parigha' means 'beam'. Performing the pose on a regular basis promotes optimum health.
Gate Pose stretches the whole body. It stimulates muladhara, manipura, anahata, ajna and guru chakras. Regular practice of the pose promotes stability.

Other Benefits of Gate Pose
Stretches the spine.
Stretches the legs and strengthens leg muscles
Promotes flexibility of hips
Lung function improves
Stimulates functions of abdominal organs
Stretches the sides of the body
It boosts immunity.
Instructions
Kneel on the mat. Maintain hip-width distance between your knees.
Inhale as you stretch your left leg towards your left and place the left heel on the floor. The left heel can either be aligned to your right knee or be placed slightly backwards.
Raise your right hand over your head.
Exhale as you bend towards your left. Slide your left hand down your left leg and hold your lower leg.
As you bend towards your left, bring your right leg towards your left with the fingers pointing towards the left.
Look straight.
Hold the pose for 20-30 seconds. Release the pose and repeat the same on the other side.
Note
In case of pain in the knee you can place a folded blanket under your knee.
If you find it difficult to balance in the pose, you can place your stretched leg against the wall.
Those with chronic knee pain should refrain from practicing the pose.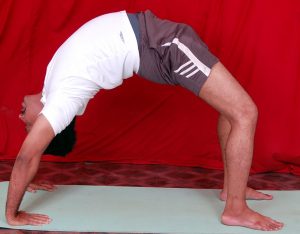 Upward Bow Pose is often referred to as Wheel Pose. However, in Wheel Pose, you bring your hands and legs close to each other to form a wheel whereas in Upward Bow Pose, hands and legs are apart. Upward Bow Pose is called as Urdhva Dhanurasana. In Sanskrit, 'Urdhva' means 'upward' and 'dhanur' means 'bow'.
Read More »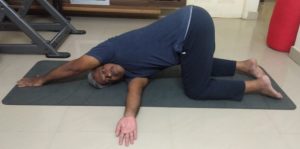 'Parsva' in Sanskrit means 'side' and 'bala' means 'child'. The pose is performed in Child Pose or in variation of Child Pose with the upper back twisted and hence it is named as Parsva Balasana.
Read More »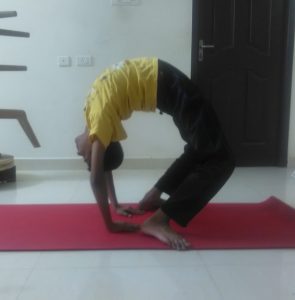 Wheel Pose is one of the challenging back bend yoga poses. It is called Chakrasana in Sanskrit. 'Chakra' means 'wheel'. It goes without saying why the pose is named thus.
Read More »