Today's yoga pose involves performing Lotus Pose in Plough Pose. You are well aware of both the poses. The pose is called Padma Halasana in Sanskrit. It is also called as Padma Pindasana meaning Lotus Embryo Pose, though there is slight variation to Lotus in Plough Pose.
Manipura, visudhdhi, ajna, guru and sahasrara chakras are stimulated in Lotus in Plough Pose. We have earlier seen the benefits of these chakras in other yoga poses. We will soon cover the individual benefits of all these chakras when they perform at their optimal best.

Benefits of Lotus in Plough Pose
Stretches and strengthens the spine
Back muscles are strengthened.
Promotes blood circulation
Regular practice of the pose helps to strengthen the nervous system.
Reduces tummy fat
Reduces excess fat in hips and thighs
Promotes functions of abdominal organs
Helps to cure infertility
Strengthens leg muscles
Improves joint flexibility and strength
Aids in detoxification
Relieves fatigue
Practicing the pose helps to relieve stress.
Promotes calm
Instructions
Lie down on your floor. Place your hands on the sides of your body.
Assume Shoulder Stand. To perform Shoulder Stand, exhale as you lift your legs upwards. Hold the buttocks with your palms and straighten your body so your body is aligned in one straight line from neck to feet. Inhale.
Fold the legs as in Lotus Pose.
Exhale as you bend your legs towards your face. Place your knees on the face.
Hold the pose for 30 seconds. To release the pose, unfold your legs and stretch yourself on the floor.
Note
Those with severe problems in neck, spine and hips should refrain from practicing the pose. The pose is also not recommended to those with severe joint conditions.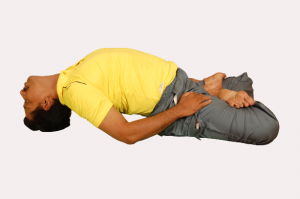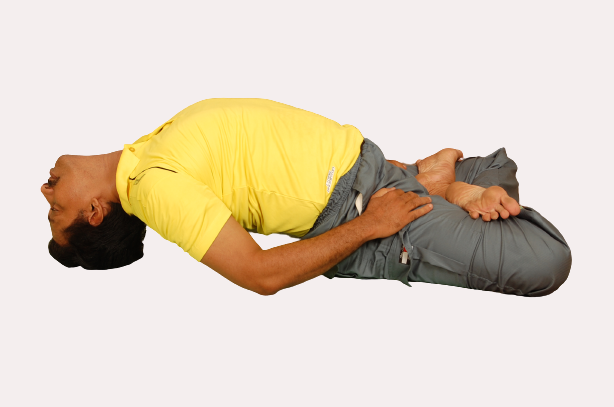 Fish Pose is an effective counter pose for Shoulder Stand, Plough Pose and Reclining Angle Pose in which the back is in forward bend though we bend backwards.
Read More »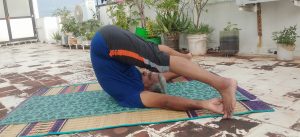 We have, earlier, covered the benefits and how-to-do of Bound Angle Pose and Upward Seated Angle Pose. Today will be about Reclining Angle Pose. The pose is called Supta Konasana in Sanskrit.
Read More »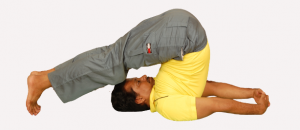 In one of our earlier posts, we have covered the benefits and how-to-do of Half Plough Pose. Today's pose is a full version of Half Plough Pose, that is, Plough Pose. It is called as Halasana in Sanskrit. 'Hala' means 'plough'.
Read More »